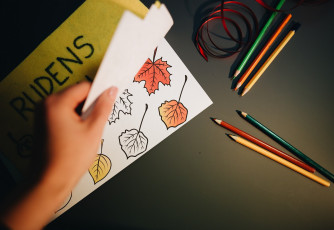 Vide
Rudens krāsojamā grāmata
Kad ārpasauli pārņēmis pavisam slapjš un auksts rudens, nekādi lielie rudens pētniecības darbi ārā nesanāks. Iepazīt koku lapas un to pārvērtības rudenī palīdzēs pašu izveidota krāsojamā darba grāmata!

Tai nepieciešamās darba lapas var izprintēt, atrodot internetā dažādu lapu paraugus. Piemēram, kastaņkoka lapas ar kādu kastani vai ozola lapas ar zīlēm. Tas noderēs, lai raisītu asociācijas ar konkrētā koka lapām. Svarīgi, lai izprintētie lapu paraugi ir krāsojami.

Protams, rudenī koku lapas maina krāsu un nobirst, tāpēc tās var krāsot dažādās krāsās. Arī krāsu nosaukumus iegaumēt ir svarīgi, lai tos atpazītu, tāpēc vienas darba lapas uzdevums var būt šāds: katrai lapai klāt pierakstīta krāsa, kādā tā jāizkrāso. Bērna uzdevums ir pašam izlasīt vai sadarboties ar kādu no vecākiem, kas palīdzēs izlasīt krāsu nosaukumus un atrast atbilstošu krāsu.

Grāmatas asociāciju sadaļā var būt dažādu koku lapas ar to nosaukumiem vai koka "augļiem" – kastaņiem, čiekuriem, zīlēm, riekstiem. Vēl kādu sadaļu var atstāt brīvāku: vienā lapas pusē ir kāda konkrēta koka lapa, taču otrā pusē bērnam tā jācenšas uzzīmēt pašam.
Savai darba grāmatai noteikti katrs pats var izveidot noformējumu un vāku, piemēram, A4 formāta filcs, kurā ar caurduri izveido caurumu, tāpat, kā pārējām darba lapām. Kopā tos savieno ar kādu lenti stūrī, lai grāmata viegli šķirama un krāsojama.