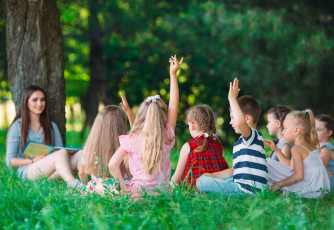 Vide
Nodarbības svaigā gaisā
Viena no vasaras lieliskajām priekšrocībām – visu var darīt ārā, arī mācīties! Gan laikapstākļos, kad saule silda vaigus, gan arī lietū. Atliek vien piemērot apģērbu!
Augu un ainavu pētīšana un zīmēšana
Lai vieglāk atcerētos tekstu vai kāda stāstīto, ir ieteicams dzirdēto vizualizēt, lai tas labāk paliek atmiņā. Šādā veidā varam iepazīt arī dažādus augus vai dabas parādības. Sarīkojiet nelielu ekskursiju, dodoties uz kādām dabas takām vai vienkārši pilsētas parku ar saviem zīmuļiem un krāsām, papīra lapām un kanvām. Katram ir uzdevums izvēlēties kaut ko, kas redzams acu priekšā, raugoties jebkurā virzienā, un to uzzīmēt. Gleznot var arī priekšā redzamo ainavu. Piemēram, ziedošu krūmu, strūklaku un varavīksni. Vēl kāds variants: uzzīmēt tikko noplūktu puķi tuvplānā, izpētot tās struktūru un dzīslas. Neaizmirstiet katra gleznoto apskatīt un pārrunāt – sarīkojiet izstādi bērnudārzā!
Mākoņu formas
Darbojoties ārā, ir viegli raisīt savu iztēli. Iztēles raisīšanai sākumā noderēs kāda spēle, kas bērnam liks paraudzīties uz dabu mazliet citādāk. Bērnudārza pagalmā vai parkā izveidojiet mazu planetāriju – izklājiet katrs savu pledu vai paklāju, uz kuriem atgulties ar skatu pret mākoņiem un vērot to formas. Kad kāds pamana mākoni kāda dzīvnieka formā, to parāda citiem, lai arī pārējie cenšas saskatīt to pašu. Tas veicinās iztēli un vēlmi arī pārējos bērnos censties saskatīt ko interesantu mākoņu formās.
"Klasīšu" zīmēšana un spēlēšana
Klasiskā bērnības spēle, kas patiesībā ir ļoti noderīga koncentēšanās spēju uzlabošanai. Iespējams, bērni vairs nezina šādu spēli, vai arī tā neliekas nekas īpašs. Tāpēc audzinātājas uzdevums ir radīt īstu komandas garu, visus iepazīstinot ar šo spēli un to, kā tā spēlējama. Kad tā kopīgiem spēkiem ir uzzīmēta ar krītiņiem uz asfalta, sākam spēli! Šo var spēlēt arī citādi: nevis izlecot ar kājām, bet metot akmentiņu, sākot no mazākā cipara laukumiņa, trāpot tieši uzzīmētā kvadrāta robežās.

Papīra kuģīšu veidošana lietus upei
Arī dienās, kad ārā līst lietus, nevajag atmest ideju par došanos ārā. Galvenais ir katram nodrošināties ar lietusmēteli un gumijas zābakiem vai jebkādu lietum atbilstošu apģērbu. Pirms došanās ārā izveidojiet savus kuģīšus, kurus peldināt pielijušajās peļķēs vai pašu izveidotā upītē.
Lai izdodas raisīt iztēli un iedvesmoties!
Foto: Shutterstock.com