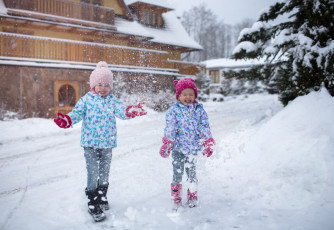 Sports
Idejas sportiskām aktivitātēm bērnudārza pagalmā
Iešana ārā un kustības ir ļoti nozīmīgas ikvienam bērnam arī ziemā. Lai arī dažkārt laikapstākļi nešķiet gana patīkami, lai dotos ārā, tomēr piemērotas un interesantas aktivitātes ārā būšanu padarīs aizraujošu ikvienam.
Labā ziņa, ka kustību aktivitātes ir iespējams realizēt arī salīdzinoši nelielos pirmsskolas izglītības iestāžu pagalmos.

Slidkalniņš. Bērnu priekam nav nepieciešami lieli atrakciju parki, reizēm pietiek ar pavisam nelielu slidkalniņu, kas sašķūrēts pašu spēkiem. Šajā darbā palīgā var lūgt arī tētus. Ar lielākām vai mazākām lāpstām visi kopā atbilstošā vietā pagalmā sanes sniega kaudzi, noblietē to tā, lai uz brīvo pusi veidotos nolaidens slidkalniņš. Stāvajā malā veido sniega pakāpienus, lai bērni var tikt augšā. Kad slidkalniņš gatavs, prieki var sākties! Starp citu, reizēm pavisam tuvu bērnudārzam ir veikti šķūrēšanas darbi, kā rezultātā jau ir gatavas lielas sniega kupenas, pa kurām dauzīties.

Sniega futbols. No sniega uzveļ četras pikas, ar kurām iezīmē divus vārtus – katru savā pusē. Tad bērni sadalās divās komandās, ņem īstu futbola bumbu un spēlē futbolu. Tas noteikti ir citādāk, nekā vasarā!
Skulptūru veidošana. Brīžos, kas iestājies atkusnis, jāķeras pie skulptūru veidošanas. Viena lieta ir uzvelt piku, bet pavisam kas cits – no tām veidot telpiskus objektus. Šo darbu labāk veikt komandās, lai cits citam var palīdzēt ne tikai ar padomu, bet arī pavisam praktiski.

Traktora pēdas. Dienā, kad uzsnidzis pavisam svaigs sniegs, un pagalmā pēdas nav iemītas, varat spēlēt "traktorus". Tas notiek tā: bērni sastājas rindā un savērš pēdas kā dejotāji (purngali izvērsti, viens papēdis pie otras pēdas vidusdaļas). Tad liek soli pa solītim tā, lai veidojas traktora pēdas. Vai pēc pēdām varat noteikt, uz kuru pusi traktors ir braucis? Starp citu, līdzīgi var attēlot arī zaķa pēdas, jo šī dzīvnieka skrējiens atšķiras no citu zvēru atstātajiem.
Koki ar sejām. Kad sniegs nedaudz kūst un ir gana lipīgs, var velt tradicionālos sniegavīrus, bet var to izmantot arī radošāk, piemēram, izdaiļojot pagalmā esošos kokus. Tos var atdzīvināt, ņemot sniegu un pamazām lipinot pie koka stumbra tā, lai veidotos sejiņa, vai varbūt kāds meža dzīvnieks. Ja koku nav, tad, iepriekš saskaņojot ar saimniecības daļas vadītāju, tādas pašas sejiņas var veidot uz ēkas sienām.