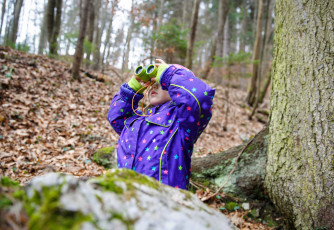 Sports
Ideja: Pastaigas ar spēļu un rotaļu elementiem
Pastaigas ir lielisks veids, kā mudināt bērnus kopā ar ģimenēm kustēties un būt aktīviem. Tomēr, ja tās šķiet pārāk vienmuļas, tad ir daudz un dažādu veidu, kā tās padarīt interesantākas un atraktīvākas.
"CreaKids" pirmsskolas skolotāja Līga Krūmiņa iesaka pastaigas dabā apvienot ar citām aktivitātēm, tādējādi piešķirot papildus azartu un motivāciju. Piemēram, pastaigā iekļaut geocaching jeb slēpņošanu. Tā ir spēle, ar ko visā pasaulē ir aizrāvušies tūkstošiem cilvēku.
Spēles pamatideja ir tāda, ka slēptuves tiek meklētas ar satelītnavigācijas iekārtu jeb GPS. Protams, slēptuves var atrast arī ar senākām metodēm – kompasu un kartēm. Turklāt slēptuves bieži vien atrodas dabas objektos, vai arī ir saistītas ar kāpelēšanu un citām interesantām lietām.
Taču arī vienkāršām pastaigām gar upi vai jūru, kādas iecienījusi pati Līga Krūmiņa ar ģimeni, nav ne vainas. Vēl var piedalīties dažādās sabiedrības iniciatīvas projektos, piemēram, bērnudārzam "Creakids" ir pieredze piedaloties kampaņā "Mana jūra piekrastes Tīrradē". Linda Krūmiņa novērojusi, ka ir svarīgi vecākus informēt par iespējām, jo to ir gana daudz, taču vecāki ne vienmēr paši interesējas un meklē. Savukārt gadījumos, kad informācija pati nonāk pie ģimenes, tad tās piedalās labprāt.
Daži ieteikumi:
Svarīgi izvēlēties atbilstošu pastaigas garumu, ņemot vērā visu pastaigas dalībnieku iespējas.
Lai būtu interesanti, var dažādot pastaigas maršrutu, reizi pa reizei to pamainot un dažādojot.
Dodoties pastaigā, reizēm var izspēlēt lomu spēli, kur pārmaiņus kāds uzņemas gida lomu.