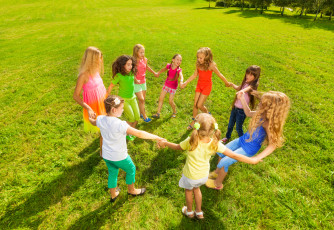 Sports
3 jautras spēles laika pavadīšanai ārā
Tūdaļ sāksies pavasara siltā un saulainā daļa, kad bērni arvien vairāk laika pavadīs ārā. Piedāvājam 3 jautras spēles laika pavadīšanai ārā.
Riņķis uz apli
Grupas bērnus sadala divās komandās, kas sastājas aplī, sadodoties rokās. Katras komandas divi bērni sadodas rokās caur vingrošanas riņķi. Tad, atskanot start signālam, jācenšas riņķi padot uz priekšu. Lai to izdarītu, katram bērnam jāizlien caur riņķi, neatlaižot rokas. Uzvar tā komanda, kura pirmā pabeidz pilnu apli.

Siena pļāvējs
Spēlē jāpiedalās vismaz trim dalībniekiem. Nepieciešams brīvs laukums un virve, kurai vienā galā iesien nelielu priekšmetu, piemēram, smilšu maisiņu.
Dalībnieki nostājas aplī, kas spēlē ir pļava. Pļavas vidū vietu ieņem pļāvējs ar auklu, kas ir izkapts. Pļāvējs auklu griež ap sevi, turot to nelielā augstumā virs zemes (30-40cm). Aplī stāvošie, auklai tuvojoties, lec tai pāri. Tas dalībnieks, kurš laikus nepaspēj pārlēkt vai aizskar auklu, no spēles izstājas. Uzvarētājs ir tas, kurš visilgāk spēj izvairīties no auklas un nav "nopļauts". Ja spēles uzdevuma veikšana dalībniekiem kļūst pārāk viegla, to var sarežģīt, griežot auklu augstāk.

Čūska
Dalībnieki izveido čūsku, nostājoties rindā cits aiz cita, turot priekšā stāvošajam rokas ap vidu. Pirmais dalībnieks ir čūskas galva, bet pēdējais ir aste. Spēles uzdevums ir galvai noķert asti, neatlaižot rokas. Čūska visādi lokas un neļauj noķert asti, bet, kad aste ir noķerta, tā kļūst par galvu un spēle turpinās.
Ja spēli spēlē telpās, piemēram, zālē, lai spēli padarītu grūtāku, čūsku izveido no sēdošiem dalībniekiem. Galva mēģina noķert asti, pārvietojoties tikai sēdus.