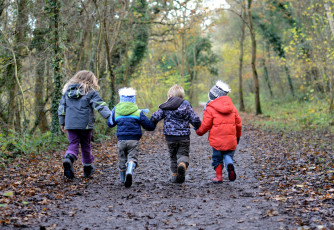 Sport
Hike as a challange – an excellent motivation to move
Even though you don't have to teach kids how to lead a an active lifestyle or how to find the motivation to move, one of the most important tasks in the NordPlus project "Active lifestyle" is implementation of these traits in the children's families as well.
Kindergartens in all three countries – Latvia, Iceland and Norway – regurally go on hikes, and encourage to join not only the kids, but the adults as well. Moreover, some of these hikes are posed as challanges to kindergartens in other countries, after them photos and videos are being sent to other kindergartens, so the children can see, that kids from other countries do similar things.
In "Creakids" in Latvia active mornings with exercise has become a tradition – similar to having a special Sports Day in Elektrum Olimpic Center every year. The kids also love to join in many games in the playground, while getting some fresh air. The "Creakids" teachers also pose a good example, by activly participating in sports activities outside work – "Lattelecom Riga Marathon", "Baltic Marathon", Strenght Run etc.
While in movement, we also get new ideas, and because of that, this year we will make a morning exercise video, that will be available to all three countries. Similarly we have an idea of sharing international palyground games as well as having one morning a week, where all of the kids from kindergarten can exercise together. And knowing that pre-schools often go on trips, then we have decided that at least 1km every time will be walked by foot.