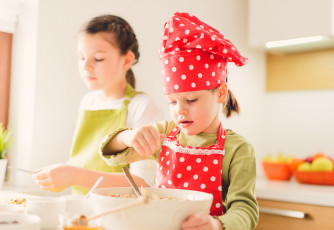 Nutrition
Cooking together – encouragement to eat healthy
It is the age, at which children go to kindergarten, when eating habits, that will follow them the rest of their lives, are formed. But more often than not parents are worrying that they children don't like eating vegetables and other healthy foods.
The experience gained in the kindergarten "Creakids" shows that everything depends on how food is presented to the children and how they are introduced to healthy eating. Līga Krūmiņa, a teacher, says, that it is very important to include children in the process of cooking. Even a three year old will be up for the task, and a carrot, that has been grated by the child him or herself, will definitely be tastier than the one, that has been grated without the involvement of the kid. That is why "Creakids" organizes days, when children are involved in the work, that takes place in the kitchen, and there they can help with cooking.
It can be done even better at home, giving children bigger or smaller tasks, based on their age. At the same time, while cooking, you can discuss how important it is to take care of the nature and of their health – is it important to take vitamins? Which foods have the most vitamins in them? Why the apple from your garden is healthier than the one that comes from Poland?
Children also enjoy if salads or vegetables are served in an interesting way. It is also important to teach children how to eat based on the season, highlighting the most valuable products of the given season.