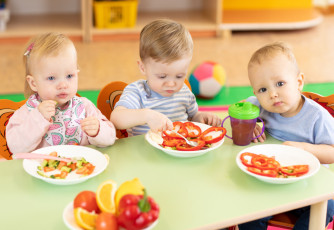 Nutrition
Healthy eating – an important prerequisite for children's good health
One of the most imprtant factors in order to have good health and feel good is healthy eating, that's why all of the three countries involved with project "Nordplus" – Latvia, Iceland and Norway – have been paying a lot of attention to it. Our teacher's have been talking to children about why is it important to eat healthy and what it really means, as well as they have made nutrition pyramid and have been apart of the cooking process in the kindergarten.
Kid's have happily accepted, that in Norway's "Laeringsverkstedet" and Latvia's "Creakids" they celebrate any event without sweets and the teachers often lead healthy snack and fresh juice workshops. Moreover, the kindergartens organise "Dinners to-go", so that parents can spend time with their kids, not by their stoves.
To ensure healthy meals, in Norway the meals are provided not only by the cooks, but teachers take part in the process as well, sometimes even letting the children help. That way they can not only cook healthy food, but also make sure to make some adjustments based on any cultural backgrounds. In the kindergartens of all three countries, cooks cook the food at the kindergarten and they always try to choose foods, that have been grown locally.
Kindergartens have plenty of ideas, how to continue talking about healthy eating this year. For example, there is a plan of the children making a cook book, that includes tradition recepies from every country, as well as the families of the children will make cook books filled with healthy recepies.