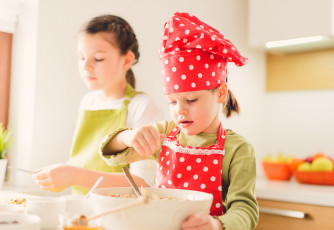 Uzturs
Gatavošana kopā – pamudinājums ēst veselīgi
Tieši pirmsskolas vecumā bērnam veidojas ēšanas paradumi visai dzīvei, taču nereti dzirdēta vecāku sūrošanās, ka bērns dārzeņus un citus veselīgus produktus ēd nelabprāt.
Bērnudārza "Creakids" pieredze liecina, ka viss atkarīgs no tā, kā bērnam to pasniedz un kā viņu ar veselīgu uzturu iepazīstina. Skolotāja Līga Krūmiņa stāsta, ka ļoti svarīgi ir bērnu iesaistīt ēst gatavošanas procesā. Arī trīsgadniekam tas ir pa spēkam, turklāt paša rīvēts burkāns noteikti garšo labāk, nekā tas, kurš salātos nonācis bez mazā palīga gādības. Tāpēc arī bērnudārzā "Creakids" organizē dienas, kad bērni iesaistās virtuves darbos un paši ko gatavo.
Vēl veiksmīgāk to var darīt mājās, uzticot bērnam lielākus vai mazākus darbiņus, atbilstoši vecumam. Vienlaikus, gatavojot maltīti, var pārrunāt cik svarīgi ir rūpēties par dabu un arī veselību: Cik svarīgi ir ēst vitamīnus? Kuros produktos ir visvairāk vitamīnu? Kāpēc ābols no kaimiņa dārza ir veselīgāks par Polijas ābolu?
Bērni novērtē arī to, ja salātus vai dārzeņus pasniedz atraktīvā veidā. Tāpat jau no mazotnes ir jāmāca ēst sezonāli, akcentu liekot uz attiecīgās sezonas vērtīgākajiem produktiem.