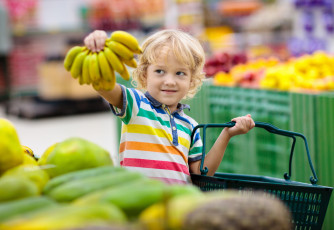 Nutrition
Let's learn how to read food labels!
A cornerstone of a child's development is not only a varied and balanced diet but also a healthy one. How to navigate the offer of supermarkets so that you can choose the best produce? Let's learn how to read and understand food labels.

Often we spend a lot of time in a supermarket seeing as they are quite big and finding the needed products can take some time. If you want to read all the labels, then the time will draw out even longer. However, in order for the consumer to have an easier time navigating the offer, different labels have been created that indicate the needed information in an easily readable way. One of the most important is the one that indicates eco-friendly produce.

Labels
Show children some of these labels or stickers that can be found on products and explain in simple words what they mean.

Latvian eco-product. It is a food eco-label that certifies that the specific food product has been produced in Latvia with organic farming methods without the use of chemical fertilizers, pesticides, and herbicides, and complies with the requirements of the certification standards developed by the Latvian Association of Biological Farms. The conformity of food products with all the requirements specified in the certification standards is controlled by independent certification bodies that have received accreditation for the performance of the certification activity.


Euroleaf. This eco-label shows that the food identified has been produced in one of the Member States of the European Union with organic farming methods, without chemical fertilizers, pesticides, and herbicides, and complies with the requirements of the European Union organic farming regulation. Since July 2010, this eco-label has been mandatory for all packaged organic food products produced in one of the EU Member States, including Latvia, and meets certain standards. In this case, the product shall also bear a control code which may be: LV-BIO-01 or LV-BIO-02 in Latvia. The product must also bear an indication of its place of origin.


Environmental labeling of the European Union. This is the official environmental labeling of the European Union, which can also be obtained by Latvian producers. Various fabrics, their products, floor coverings, and office paper are currently available in Latvia.


Fairtrade. Millions of small farmers in third countries live in great poverty and are unable to feed their families, put children into school, and invest in sustainable development. It is very difficult for them to secure their products, and they depend on intermediaries imposing their rules. In years of poor harvests, many of them lose their last property – land, cattle, and seeds. Plantation workers also see no benefit from international trade. Their income is below the subsistence minimum and very low living conditions. This label, which shows producers getting paid for their work properly, has become very popular in recent years. More widely labeled products: bananas, coffee, tea, textiles.
Task
If you're talking about labels in preschool, you can ask your parents to bring some packages of goods so that children can find them and discuss why they are printed on the package. Even if talks are at home, a similar task should be done. If you can go to the store together, the child can look at similar products and find the ones on which the labels are applied.

E substances in products
One of the product quality indicators is the number of E substances in the product. And it's great if we can show a child day to day that the choice of a fully healthy product is simple, just by looking at the label. It is important to tell children that not all E substances are bad.

Tell the children the main principles for the industrial production of different foods. It can be explained that different coloring agents, preservatives, and other substances are added to a more attractive view and better conservation capacity in the manufacturing process. Not all of them are bad, but some of them are called out by scientists because of the potential harmful effects.
Since the list of E substances is very extensive, it is worth starting with just a few. One option is to draw up a small list of the most harmful substances on paper and to not use products that indicate their substances on the label.

E substances to be included in the list
Sweeteners: 950; 954; 962; 951 (aspartame); 952.
Colouring matters: 102; 104; 101; 110; 120; 122; 123; 124; 127; 129; 131; 132; 133; 142; 150c; 150d; 151; 154; 160b (annatto); 171; 173; 180.
Preservatives: 252; 249; 211; 251; 250; 221.
Amplifiers: 622; 621.

Task
You can ask parents to bring the labels to the preschool of the family's favorite foods so that you can study them together.
Also at home with children, you can look at packages of favorite foods to see if they contain too many unwanted E substances.

An idea!
Specific applications can be used in the process of learning to help target the E range of substances. The apps are different. Here's just one example.
The "E-Substances" will help guide the broad list of E substances. The application offers the possibility of drawing up your own list of harmful and harmless E substances and protecting your health!

Options:
– Considering the list of e-substances in a convenient way;
– Search by name and code
– Select e-substances by group or status;
– drawing up a list of their preferred and undesirable e-substances by colors;

The application can be used in English, Russian, and Latvian.

Photo: Shutterstock.com