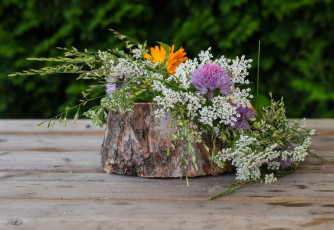 Culture
Celebrating the summer solstice in kindergarten
Every summer we celebrate the quintessential festival, with crowns from plants and flowers in the meadow, caraway cheese and singing Latvian folk songs. Look at the ideas of introducing children to this festival in kindergarten.
What is the summer solstice?
First you have to start with introducing children to this event. Create a story filled afternoon where you tell children stories and facts about this celebration. If it is possible, also learn to make traditional summer solstice food together!
Wreathing and familiarity of plants
Children are curious and interested in everything that is naturally occurring. When you go to the meadow for fresh yellows, cornflowers, daisies, or other plants, talk about the different and common features of these flowers. For example, daisies are white, but cornflowers are blue. Both flowers grow in a similar length. Another way to familiarize the plants – to draw them or to learn form a herbarium. Organize a summer solstice exhibition in the kidergarten with child-drawn or herbarium shaped meadow flowers! Bigger children will also have more patience to learn to put their own wreaths on. If there is no way to go with a kindergarten group to pick flowers for a wreath in the meadow, it may be asked to provide them by the parents.
Beliefs, stories and folk songs
To best understand a story or folk song, create a small theatrical show in which children split into smaller groups and play one of the stories or beliefs they read. A retelling game will also be useful for memory training. This is what happens: children split in succession -whose first, second, third, and so on. The first child goes alone to listen to a story, then the first child tells the story to the second, the second to third, and so forth.
Solstice evening in kindergarten
In each family, celebrating a holiday is usually a little different. It would be interesting, therefore, to celebrate summer solastice together as well (before the actual date of the celebration). It is more interesting if it happens later in the evening, when the sun is gradually heading toward sunset, making it the perfect time to celebrate. And what is also significant is that if you celebrate in the evening, it is more likely that more parents will be able to come.