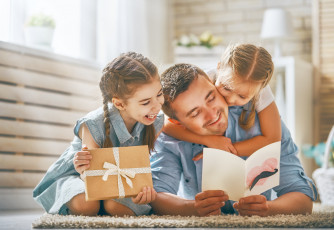 Culture
We celebrate our super-dads!
In Latvia, Father's day became an official celebration in 2009 with the intention to highlight what an important role fathers play in raising a child. Every year Father's day becomes a more and more celebrated occasion.
In Latvia, we celebrate this day during the second Sunday of September, which this year was the 13th. At the kindergarten, we treat this day with the same attention to detail and care as we do with Mother's day.
How to celebrate it:
One of the most beautiful traditions for us has become greeting our dads on Monday morning with a hot cup of takeaway coffee. Children prepare paper cups beforehand and paint them so there is a personal touch to them and each of them would be unique. Children hand these cups to their dads as they say goodbye and see their dads leaving the kindergarten territory – at that point, teachers pour coffee or tea in these cups.
Afternoons for dads – a kindergarten group organizes afternoon workshops for dads. One example of this is the cooking workshop where dads together with their children make pizzas or sushi. Other ideas on how to spend this afternoon are team-sports games, hikes, board games, etc.
Special messages for dads – it can be a video, where each child talks about their dad, it can be a card or a drawing. Children can learn a special song that talks about dad's role in the family, practice it together with their music teacher, and then send it as a video to all dads on Father's day.
Within the family, the day can be celebrated in many different ways – a brunch, road trip to see nature, hikes, going to events dedicated to the celebration, or different sporting activities.
Some of the most popular gifts are the ones with embroidered or painted phrases such as "Superdad", "the best dad in the world", etc.