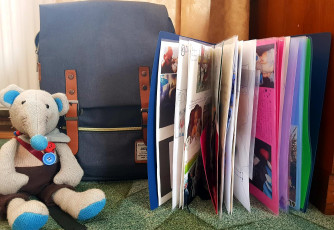 Culture
The experience of a kindergarten: How to encourage parents to spend time with their children
The time spent together with their parents, is really important and necessary for children, however in the rush of their day to day lives, parents can forget that. That's why after it was noticed that any events of the kindergarten didn't produce the result that was expected, an idea came to a etcher form Liepaja's kindergarten "Mazulītis" – Riko's traveling bag.
Riko is not only a stylish mouse, that travels from one kid to another in the kindergarten "Mazulītis" – Riko also encourages families to spend more time with their children. And he is really successful at it! Right now all of the children wait for Riko's visit and families are taking part in it as well (for example, at first Riko was just a regular mouse, but because of the care given to him by children and parents, he now has pants, braces, a bow tie, a head accessory and other types of accessories).
The teacher Aiva, who was the author of this idea, says, that she never had to talk children or parents into it – they participated willingly, which was a really nice thing to see. The same goes with Riko's diary-it's not filled with descriptions anymore – now parents attach more and more photos of the time they have spent together with their children.
How does it function?
Every week Riko visits one child.
Riko doesn't visit alone – he has a backpack with his diary, sunglasses and other accessories (so that everyone likes him).
During the week, Riko lives together with the family and goes on trips, participates in different activities.
After that children with the help of their parents describe everything they have done in Riko's diary.
After that children with the help of their teachers tell about their adventures to their friends in class.
The child, who had Riko visiting him or her, gives it over to the next child.