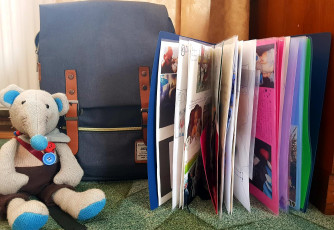 Kultūra
Bērnudārza pieredze: Kā mudināt vecākus pavadīt laiku ar bērniem
Kopā ar vecākiem pavadītais laiks bērnam ir ļoti svarīgs un nepieciešams, bet nereti ikdienas steigā par to mēdzam piemirst. Tādēļ pēc tam, kad kopīgas grupiņas izstādes un citi pasākumi nesniedza vēlamo rezultātu, Liepājas pirmsskolas izglītības iestādes "Mazulītis" audzinātājai Aivai Lindenbergai radās lieliska doma par Riko ceļojošo somu.
Riko nav tikai stilīgs žurkulēns, kurš apceļo Liepājas pirmsskolas izglītības iestādes "Mazulītis" bērnus. Riko mudina ģimenes pavadīt vairāk laiku kopā ar saviem bērniem. Turklāt viņam tas ļoti labi padodas! Šobrīd ideja grupiņā ir iedzīvojusies un bērni ar nepacietību gaida Riko viesošanos viņa mājā, kā arī ir liels prieks par ģimeņu iniciatīvu attīstot šo ideju plašāk.
Piemēram, sākumā Riko bija pliks žurkulēns, bet ar bērnu un vecāku gādību, tam uzšūtas bikses, bikšturi, tauriņš, viņš ticis pie galvasrotas un cita veida atribūtikas.
Audzinātāja Aiva stāsta, ka speciāli nav bērnus un vecākus uz to mudinājusi vai aicinājusi, bet tā ir viņu pašu iniciatīva, par ko liels prieks. Tāpat ir ar Riko dienasgrāmatu, kurā tiek fiksēti visi notikumi – tie vairs nav tikai apraksti, bet ģimenes regulāri tos papildina ar fotogrāfijām no kopīgi pavadītajiem mirkļiem.
Kā tas notiek?
1. Katru nedēļu pie kāda bērna nonāk Riko.
2. Riko nedodas viens, bet līdzi ņem savu somu, kurā ir dienasgrāmata, brilles un vairāki citi aksesuāri (tā, lai patiktu gan mammai, gan tētim, gan arī bērnam!)
3. Pa nedēļu Riko dzīvojas un kopā pavada laiku ar ģimeni, dodas izbraukumos, piedalās dažādās aktivitātēs.
4. Tad bērni ar vecāku palīdzību to visu fiksē žurkulēna dienasgrāmatā, aprakstot piedzīvoto.
5. Pēc tam bērns ar audzinātājas palīdzību par nedēļas notikumiem pastāsta pārējiem grupiņas biedriem.
6. Bērns, pie kura viesojās žurkulēns Riko, to nodod nākamajam no grupiņas.