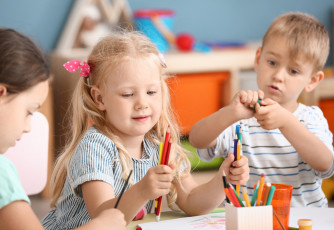 Jaunumi
Kāpēc ierasties laicīgi bērnudārzā ir tik svarīgi?
"Skolas vai vēl jo vairāk bērnudārza kavēšana nav bērna vaina. Tā ir vecāku laika plānošana," ir pārliecināta Viktorija Ozola, Montesori pedagoģe, piecu bērnu mamma un bloga "www.espats.lv" veidotāja.

Viņa dalās savā redzējumā, kāpēc ierasties dārziņā laicīgi ir vērtīgi.

Dažkārt vecāki vēlas pavadīt mierīgu rītu ar bērnu un aizved nedaudz vēlāk uz bērnudārzu, labu gribot. Taču tas tomēr nav labi.
Bērns ierodas, iejūtas, bērnudārzā paēd brokastis, aprunājas ar draugiem, un tad jūtas gatavs pastrādāt. Jo vēlāk bērns ierodas, jo mazāk paliek laika šim iejušanās mirklim, pačalošanai ar grupas biedriem… un jo sliktāk bērns jūtas.

Kad jūs paši labāk jūtaties – tad, kad jums ir laiks sagatavoties un noskaņoties vai tad, kad ieskrienat ar nokavēšanos, visi pārējie jau strādā, ir izveidojuši savas grupas? Jūs ne tikai neesat paspējuši savākties, sakoncentrēties un noskaņoties, bet esat arī kā liekais, jo grupa ir jau noformējusies, visi jau strādā. Rīts sākas nevis ar kafiju, bet ar mēģinājumu saprast, kas es esmu, kur atrodos un ko jau esmu nokavējis.

Arī skolā parasti svarīgāko – kā šodien strādāsim – pasaka pašā sākumā. Ja tas ir nokavēts, visu atlikušo laiku ir sajūta, ka es līdz galam kaut ko nezinu. It kā sīkums, it kā bērnam atstāsta, kas tika runāts, un tomēr tā sajūta nav īstā.

Vai jūs gribētu, lai jūsu bērns jūtas neiederīgs? Lai justos izsists no sliedēm? Ja tā gadās vienreiz, divreiz – nekas nenotiks, bet, ja bērns regulāri kavē, tas rada viņā nepārliecinātību par sevi. Šādiem bērniem ir zemāks pašvērtējums. Un šobrīd viņi paši nespēj kontrolēt to, cikos viņi ierodas bērnudārzā vai skolā, ja viņus ved vecāki, viņi ir atkarīgi no mums. Ja mēs regulāri atvedam bērnu vēlāk par citiem vai pat ar kavēšanos, mums jādomā, ko mainīt ikdienas režīmā. Ja mēs to nespējam izdarīt, tad mēs nevaram no izglītības iestādes prasīt, lai mūsu bērns apgūst valodu, matemātiku. Ierodoties vēlāk, bērnudārzā bērns nemaz vairs nav noskaņots darbam – viņam nav motivācijas kaut ko sākt, jo drīz būs mūzikas nodarbība, rīta aplis, pastaiga, vai pusdienas.

Tad, ja no rīta atvedat bērnu vēlāk, nevajag sevi mierināt ar to, ka bērns varēs pastrādāt vakarpusē. Pēc launaga visi bērni jau ir gaidīšanas režīmā, viņi gaida savus vecākus. Pat, ja viņš to darīs, tas nebūs tik produktīvs darbs kā varētu būt rīta pusē.
Autore: Viktorija Ozola, www.espats.lv
Foto: Shutterstock.com