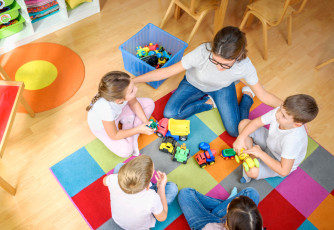 Dialogs
Problēmu risinājums – saruna, nevis konflikts
No pieaugušo prasmes komunicēt savā starpā lielākais ieguvējs ir bērns, tādēļ svarīgi apzināties, ka dialogs starp pirmsskolas iestāžu darbiniekiem un vecākiem ir mērķtiecīgi jāvirza uz sadarbību, nevis konfliktiem.
Pozitīva dialoga attīstība NordPlus projekta "Atbildīgs dzīvesveids" laikā tiek veicināta starp visām pirmsskolā iesaistītajām pusēm – pedagogiem savā starpā, pedagogiem ar bērniem, bērniem ar bērniem, pedagogiem ar vecākiem un vecākiem ar bērniem. To novērtē gan pieaugušie, gan arī bērni, jo bērniem tiek mācīts, cik nozīmīgi ir visu izrunāt, ieklausīties otrā, un veidot abpusējas sarunas, neizmantojot apvainojumus. Lai to īstenotu, ļoti noderīgas ir dažādas sociālās spēles un situāciju attēlojumi.
Islande šajā kontekstā uzsver, cik ir svarīga attieksme, ar kādu nākam uz darbu un mums ir jāuzņemas atbildība par to. Turklāt, ja mēs kā pedagogi un vecāki spējam konstruktīvi sarunāties savā starpā, tad tas nāk par labu arī bērnam.
Lai īstenotu šo virzienu, Latvijā ir notikuši norvēģu kolēģu vadīti semināri darbiniekiem, tāpat arī ikgadējā Lielā talka un ikgadējā sportiskā nometne laukos. "Creakids" ik gadu rīko radošās darbnīcas vecākiem, vai arī vecākiem kopā ar bērniem, piem., gatavojoties Ziemassvētkiem. Arī citi svētki – Māmiņdiena, Tēva diena, Līgo u.c. tiek svinēti kopā. Jau plašu publicitāti guvis absolventu vecāku priekšnesums bērnu izlaidumā, vai arī pirmsskolas bērnu izbraukumi un pārgājieni kopā ar vecākiem. Uz pozitīva dialoga veidošanu orientēts arī ikgadējais komandas saliedēšanas pasākums "Creakids" darbiniekiem un dalība labdarības akcijā "Svinēsim visi valsts svētkus kopā".
Šogad kuplo pasākumu skaitu papildinās arī "Andele Mandele" ar apģērbu un mantu mainīšanos.