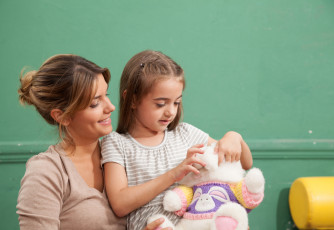 Dialogs
Bērna labsajūtas atslēga – piederības sajūtas veidošana
Lai bērns pirmsskolas izglītības iestādi apmeklētu ar prieku, ir svarīga viņa piederības sajūtas veidošana. Viens no pirmajiem soļiem, kā to var panākt, – ja audzinātāja no rīta katram mazajam atnācējam velta mirkli nedalītas uzmanības.
No rīta, kad bērns dodas uz bērnudārzu, viņš, tēlaini izsakoties, ir ar tādu kā vadiņu rokā. Nonākot grupiņā, viņš meklē, kur to var iespraust. Citiem vārdiem sakot, meklē, kur viņš iederas. Svarīgi, ka audzinātāja bērnam panāk pretī un pasaka labrīt. Pavisam lieliski, ja viņa vēl atceras, kas ir bijis iepriekšējā dienā un kādi plāni bērnam bijuši vakarā. Viņa var pajautāt, kā ir klājies, vai ir izdevies paveikt iecerēto. Tādējādi bērns saprot, ka viņš dārziņā ir gaidīts un ka te viņam ir, kur palikt. Bērnam ir grūti, ja brīdī, kad viņš ienāk grupiņā, audzinātāja ir iegrimusi savās darīšanās. Mazais līdz ar to nejūtas gaidīts un piederīgs. Ir audzinātājas, kurām sanāk ļoti dabiski, bet ir tādas, pie kurām bērni grupās jūtas nedaudz apjukuši.
"Būtu lieliski, ja mūsu bērnudārzos būtu viens pieaugušais uz trim četriem bērniem. Kā zināms, mums uz 20–25 bērniem ir viena audzinātāja un auklīte. Šādā situācijā fiziski ir grūti nodibināt kontaktu ar katru bērnu. Auklītēm nākas, piemēram, automātiski pārģērbt mazākos bērnus visus pēc kārtas. Tas ietekmē arī bērna ķermenisko apziņu – vajag, nevajag, gribu, negribu. Ir mammas, kuras ir stāstījušas – redzot šo ikdienu, negribas bērnu laist bērnudārzā. Jā, grupiņā varbūt ir mīļas audzinātājas, bet viņu ir par maz," stāsta fizioterapeite-osteopāte Līga Latkovska. Speciāliste piebilst, ka nesen mediķu aprindās aktualizējies jautājums par to, ka daudzi pacienti pie ģimenes ārsta dodas ar dažādām somatiskām sūdzībām, bet patiesībā viņiem būtu jādodas pie psihoterapeita. Un tādām situācijām sākums meklējams bērna mazā vecumā. Bērnudārzā būtu jābūt nevis bērna tehniskai aprūpei, kamēr mamma un tētis strādā, bet vietai, kur viņš jūtas arī emocionāli droši.
Labā ziņa, ka bērni tomēr adaptējas un iemācās dzīvot tādos apstākļos, kādi ir, tādējādi sevi iespēju robežās pasargājot. Tāpat ir bērni, kuri pielāgojas un iedzīvojas salīdzinoši labi, izvairoties no pārlieku liela un nevajadzīga stresa.