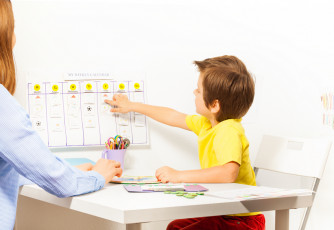 Dialogs
Mērķu kalendārs zinību apgūšanai
Lai vieglāk nonāktu līdz mērķim, piemēram, iemācīties skaitīt līdz desmit, un atcerētos uz iecerēto neatlaidīgi tiekties, bieži vien noder mērķu saraksta vai kalendāra izveidošana.
Kalendārs bērniem
Katrā grupiņā ikvienā vecumposmā pašam bērnam ir noderīgi saprast, kuras zināšanas viņam vēl jāapgūst. Lai to būtu vieglāk saprast, ieteicams izveidot pārskatāmu un viegli uztveramu kalendāru, kur bērns var pats sekot līdzi saviem panākumiem.
Tālākais notiek tā: uz papīra lapām tiek izveidots kalendārs – katrai lapai savs mēnesis. Sadalot lapu rūtiņās, tās tiek aizpildītas ar cipariem un dienu nosaukumiem (mazākiem bērniem kalendāru un apgūstamo var sadalīt nedēļās). Katram mēnesim drīkst būt cita tematika vai galvenā tēma/mācība, kurai tiks pievērsta uzmanība. Tad atbilstošās rūtiņās ieraksta, iezīmē vai ielīmē tēmu vai sasniedzamo rezultātu, piemēram, burtiņš A, 5+5, dzejolis tētim.
Blakus var atstāt tukšu ailīti, kurā pēc tam ielīmē vai iezīmē saulīti, ja plānoto ir izdevies iemācīties.
Vērtīgi! Veidojot kalendāru, bērni labāk spēs izprast jēdzienu gads, mēnesis, nedēļa, dienas. Arī to, kādi mēneši seko cits aiz cita un kā nedēļā kārtojas dienas.
Kalendārs vecākiem
Kalendāru var veidot arī tādu 9vai pavisam citu), lai to var viegli izlikt apskatei vecākiem, piemēram, pie ziņojumu dēļa. Kalendārā vecākiem var ierakstīt arī to informāciju, kur nepieciešama vecāku iesaiste, piemēram, būs nepieciešami dabas materiāli, lūgums sagatavot kādu fotogrāfiju, bērni nogaršos neparastākus ēdienus utml.
Kalendārs ar tēmām un mācību aktualitātēm palīdzēs vecākiem gūt priekšstatu, kas vispār notiek grupiņā un arī, kādas tēmas nepieciešamības gadījumā bērnam palīdzēt apgūt. Tāpat kalendārs var būt labs sākuma punkts vecāka sarunai ar grupiņas audzinātāju par bērna sasniegumiem, grūtībām un veiksmēm.
Foto: Shutterstock.com