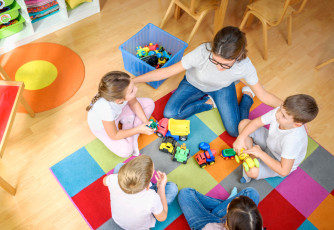 Dialogue
Resolving problems – a conversation, not a conflict
From adults being able to communicate affectively, one of the biggest beneficiaries in the child, so it is important to understand, that the dialogue between pre-schools employees and parents has to be directed to cooperation, not conflict.
The development of positive dialogue has been important to everyone involved in the NordPlus project "Responsible Lifestyle" – teachers with teachers, teachers with children, children with children, teachers with parents and parents with children. It has been recieved well by both the parents and the children, because children are being taught how important it is to talk through any issue, to listen to each other, make two sided conversations, without using insults. To make it happen, different social games and acting out situations has been very useful.
In reference to this, Iceland highlights, how important the attitude, which we attend work with, is and how we should take responsibility for it. Moreover, if we as teachers and parents can constructivly talk to each other, it helps the children as well.
To implement this idea, our Norwegean collegues have lead lectures in Latvia, as well as there has been the annual Big Cleaning and sports camp in the countryside. "Creakids" also organises creative workshops for the parents with and without children, for example, to prepare for Christmas. There are also other celebrations – Mother's Day, Father's Day, Summer Solstace – that are celebrated together. An impressive publicity has been gained by the performaces of the parents during each year's graduations, or children's trips, and hikes with their parents. Other events that motivate positive dialogue are team-bulding events for "Creakids" employees, charity event "Let's Celebrate Countries Birthday Together", and this year we will also participate in the event "Andele Mandele", that will include exchange of clothes and things.