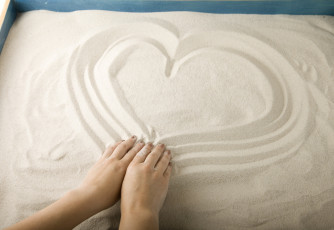 Environment
Working with sand
Working with natural materials can be very creative, knowledgeable and also reassuring. Here are great ideas that children can do with sand.
Knowledge of sand
When learning about nature, you can study sand in one of the lessons. If magnifying glasses are used in the lesson, children will see how different and unusual the grains of sand are. Where does the sand come from? Are they just in one color? The sand can be white, it can also be gray, yellow, brown or even black. The sand of rivers and seas has rounded grains, but the mountain sand has sharp and pointed edges. Every child must have seen the sand, weaving it and sensing how it is when it warms in the sun. Let each child try to tell what they felt.
Sandpainting
Dry sand will be needed for this work. It can be both rude and finer. The painting will require guasha colors. Place the selected guasha colour in the container, add water only slightly, so that the guasha remains slightly more liquid. Then add the paint and the sand together and stir, until every sand grain is painted. Sand can be devided in different containers with different colours, it can be devided, when it is dry.
Sandpaintings
One of the things that can be done with the colorful sand is painting. And it's simple. Take a page, draw the intended drawing on paper using a glue pencil. Then the glue-covered areas should be covered with sand of appropriate colour. Then wait a moment for the glue to dry, while the rest of the sand drops from the drawing. When the drawings are ready, you can create an exhibition of works.
Feeling collages
The colored sand will also be useful in conversations about feelings and emotions. A transparent dish, such as a bottle, can be given to each child, in which each can fill coloured sandcards based on their emotions. When packed, replace the lid. Then each child can try to tell why he chose exactly the colors and what feelings arise when he looks at the colored dish.
Sand theatre
To create a sand theater will have to ask for help from someone's dad. You will need a larger wooden box without a bottom. It shall be fitted with matte plastic material. A small lamp should be placed under the plastic material, illuminating the area. If there are no such options, a lighted flashlight may be placed under plastic material. On the plastic you can pour sand. Children can make light paintings using brushes or fingers.