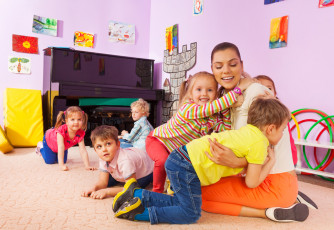 Dialogue
To leave your job at the bank and start working in a kindergarten
Sometimes people look at their priorities in life and start thinking, if it's the time for change. Usually these changes touch the professional life. Ilze Briņķe, a teacher's assistant in the pre-school "Creakids", talks about how she left her job at a bank to go and work in a kindergarten.

Ilze tells us, how she spent 10 years working in a bank, last four of them – in administering insurance, something that was not her specialty, because in university she studied human resource management. And then the time came when she felt as though she had no more to give to that job. The moment came when her daughter started going to school.
Ilze remembers, how the start of school was difficult for her daughter – she found it difficult to get used to the new environment. It was also difficult on her mom, and with that came the decision to look over her career choices. Ilze realised that there was an option to quit her job, that hadn't seemed rewarding enough lately, and stay at home to give her daughter the support she needed. Her husband agreed with his wife's decision, therefore Ilze quit her job and enjoyed the privileges of the unemployment status.
When her daughter had gotten used to the environment of her school, Ilze came back to the question of what to do with her career. One thing was clear – she didn't want to go back to work in an office. The finished Sunday school's teacher's courses and two year experience of being a Sunday school teacher gave her the encouragement of an idea that the new job could be associated with children. With this decision, she went to the manager of "Creakids" – Daina Kājiņa – to talk about her options there. The situation turned out to be very lucky, because the kindergarten was looking for a new employee. That's how Ilze's career in the kindergarten started.
Is it proftable?
When asked if it was profitable to leave a job in a bank, to start a career in the pre-school field, Ilze says that the most important thing is the rewarding feeling she feels every day when she goes to work and the huge love, she can give both to children and their parents. She adds: "Yes, I earned a bit more in the bank, but there are practical things, that are better in this job – I don't need expensive business suits, I save by the fact that now I practically live next to my job. In other words, in the end I earn almost as much."
Career opportunities
Ilze has been a teacher's assistant for three years now, but her career opportunities haven't ended with that. She has started university to study to become a pre-school teacher. "I think that in my day to day work with my heart and intuition I already use many things that we are taught at university, but there are also a few new things, I have learnt there," says Ilze.
Challanges
"In the process of education the child is the center, understanding their needs and helping to overcome everything, the skill of noticing, when something is too hard, and it's not just that the child doesn't want to do something. And it's no less important is understanding the uniqueness and worth of every single child," says Ilze about the challenges in her work. She adds, that sometimes it's challenging to motivate for work 19 kids at the same time. But turns out, it's possible. "When my daughter started kindergarten, the things she learnt seemed obvious to me. Now I finally see how much for in reality teachers and their assistants put in."
In the end Ilze admits that she never imagined, how much she will fall in love with the work the kindergarten.

Photo: Shutterstock.com