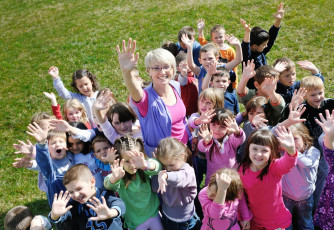 Dialogue
Pre-school's director: we want our employees to be proud of the work they are doing
Pre-schools from Latvia, Norway and Iceland and organising a project – NordPlus "Responsible Lifestyle", due to which subjects like evironment, eating habits, sports, cultural differences and positive dialogue are tackled. Pre-school's "Reykjakot" director Thorunn Osk Thorarinsdottir is talking about the benefits, that come from the project.
What have you gained from the exchange of experience between countries provided by the project Nordplus?

It has been interesting to visit schools both in Latvia and Norway and explore the good work in the schools.
This experience has given us new tool in staffing and planning the work for the children. We want to focus on responsibaility for the job and we want people to be proud of the job. We want to focus on less stress for the employees and less stress for the children.
In this exchange we have got good ideas on procedures and projects, for example the christmas presents.
We have also got ideas of cooperation with parents and how to involve them more into the pre-school.

What have you noticed as the biggest differences between countries in the field of pre-school education?

We have noticed that the pre-schools in Norway and Latvia have longer opening hours. There is also big difference of salary for teachers between Iceland/Norway and then Latvia. In Reykjakot we are very conscious about health and food and our chef makes all our food from the scratch. Our chef also thinks about calories and nutritional values and uses the best ingredients we can get, for example we try to buy fresh vegetable from farmer nearby. This can differnce a lot between pre-schools in Icleand and this we noticed as a difference between countries, that Reykjakot is maybe a head in this field.
Something that can be counted as difference but in the end is not, is that in Latvia is one teacher and two helpers in each department. Here in Iceland is the same because of the lack of teachers. We are lucky to have one teacher in each department and the others are in fact helpers.

What are the similarities that you noticed between all of the countries in this field?

Does not seem to be much difference of the content of the studies of children in pre-school environment between the countries. Each country is focusing on play, outdoor activities and children's well-being