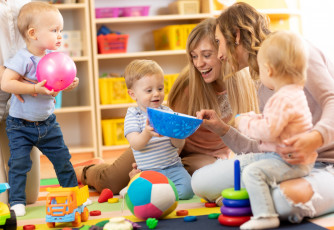 Dialogue
10 ideas for the creation of communication between the kindergarten and the parents
A successful communication between the preschool institution and a child's parents is vital for creating a friendly environment for the child. Manager from the private preschool educational institution "CreaKids" Daina Kājiņa and a school psychologist Judīte Iliško share their ideas on how to create positive communication between the kindergarten teachers and the parents.
For the parents to safely leave their child in the hands of someone else, they need reassurance that their child is safe on everyday basis. One way how to get to that assurance is by creating a successful communication between the parents and the kindergarten. It must be emphasized that it is not only the kindergartens responsibility, parents can also approach the kindergarten with their suggestions.
1. Individual Conversations with the Parents
Individual conversations between the children's parents and the kindergarten about the their everyday life in the kindergarten, their development and learning abilities has great deal of impact on the creation of more positive and closer relationships. These conversations are good to have at least once or twice a study year. Highlighting the child's new skills, positive development and to showcase what should be improved, in order to further the child's progress. It allows parents to understand what is their child's development like all together and what they can do the best and what should be worked on. These personal conversations develops a much stronger cooperation between the teacher and the child's parents. Conversations can allow for the teachers to better understand a child's personality and the parents opinion on the child's development. "It's good practice to organise conversation regularly and with all of the parents because unfortunately many teachers tend to invite parents to talk only when the child is experiencing some problems," explains a school psychiatrist Judīte Iliško.
2. A Note For the Teacher in the Child's locker
There are a lot of everyday requests, wishes and requirement, that the teacher completely naturally can forget. And because of that a lot of misunderstandings between the parents and teachers can arise. Of course, on way to cope with this is to say that the employees cannot remember everything, can't do everything and for both sides to remain dissatisfied. Another way how to cope with this – search a solution and to think how to make the teachers' jobs easier and at the same time how to listen to the parents' wishes.
Great solution for this problem has been found at the private kindergarten "CreaKids" with their idea of "pockets" attached to the side of children's lockers, in which the parents can place a piece of paper with their wishes and requirements for their child – what they should wear, do or to remember. It's not just a plain note in the child's locker but it's a special envelope like pocket in which notes can be put in and in that way important information can be passed on. Parent to teacher, teacher to parent or even parent to parent, if it's necessary.
Even if this method is usually used in younger age groups, where children don't know how to explain and to pass on the parents' wishes , this can be used in older groups as well.
3. A Positive Note in the Child's Locker
It's important for everyone to know that they are appreciated and that other see the good things in them. Especially for kids, who have some negative behavioural features. By observing and noticing the positive in the child, parents become more open to cooperate with the teacher. "If all they hear is negative remarks and judgement, parents will not want to cooperate but actually the opposite – distance themselves. It doesn't have to be a long list but one thing the teachers have noticed during the week, for example, the child has helped someone else put toys in places, was really diligent in the art class, carefully listened to the teacher during exercise, was nice to others, dressed by themselves and otherwise," explains Judīte Iliško.
4. A Closed Facebook Group
For parents their child's wellbeing in the kindergarten is really important and ,of course, one of the ways to make sure of it is by talking to the teacher. However, not every morning or evening has enough time for that.
To give the parents peace of mind and to give them a wholesome picture of their child's everyday life in the kindergarten, preschool "CreaKids" has created a private parent-approved Facebook group for every kindergarten group, to which only the parents and the teachers have access. Every day teachers upload pictures and information about the most interesting activities, moments form learning process or leisure times and mealtimes.
As well as they can share the upcoming events in the kindergarten and sometimes even make voting polls, if the suddenly parents opinion is needed on a certain question. Information that has been learned in the secret Facebook group parents can use for successful conversations with their child, while talking about their day.
5. Monthly Plan in E-mail
It is useful for the parents to know the activities the kindergarten has planned long-term, for example, a month in advance. At the beginning of every month, teachers could send an email to the parents with the plan for the following month. It consisting plan for each day, information about the most important events that month and birthdays. If any activity requires for the parents to be involved or the parents need to prepare something, they can be informed and the beginning of the month and , furthermore, they plan their time and necessary resources accordingly. Emails could also specify things that relate to individual children. For example,Mārtiņš will need bunny ears for a play, however, Elizabete needs a white blouse for folk dance.
6. Parent Involment in the Kindergarten Life
Even though parents have their jobs and their everyday tasks, their involvement in the kindergarten life is very important. And in this case, initiative hase to come from the preschool educational institution – the place that plans and organizes their child's everyday life, therefore, there might be a lot of situations, where the parents can help a lot. If the parents visiting the kindergarten and telling about their profession seems to be an already known activity, then inviting parents one after the other to read a bedtime story for the children before nap time. This will allow the children to get to know all of the parents and for the parents to get to know all of the kids, as well as for the children to see their parents in an unusual situation.
These could also be tasks connected with education, for example,at home the parents together with their child have to find interesting facts about a certain country and during this process the children learn and also have to think how to present to other children. On a previously planned day the children not only present their facts but with the help of their parents they also prepare traditional food from that country. And parents are more than welcome to join.
7. A Trip to Other Kids Homes
Communication isn't just for practical things, it also creates a sense of community and belonging. One of the ways how to do it is to organize unusual trips (of course, if the distance isn't too big). The aim of the trip – to visit the home of every group member and to complete a task. Teachers from a preschool educational institution in Priekuļi called "Mežmaliņas" group name – Sprīdīši asked the parents to prepare a surprise at home ,that starts with the first letter of their child's name, before their trip there. In result, once in early autumn the kids were surprised with a Christmas tree and another time – with fish oil for strength and wisdom.
8. Cleaning Up the Kindergarten
Even though preschool educational institutions have employees, that take care of tidiness both indoor and outdoors, once every season a general cleaning could be organized. Any parent could participate with their child. For this activity the job thats has been done is not the most important (however, children are very to see their own result!) but the most important thing is being together. To conclude this activity, everyone could prepare soup or sandwiches all together.
10. Receiving an Attestation
A children receive their first attestation / grade transcript, when they start school. However, it would be important for the parents to receive feedback – how their child did, what was positive, what they did the best. These type of attestation they could receive, for example, before the summer holidays, when some of the kids spend time travelling or relaxing with their parents. Because the teacher will have prepared a list of the child's successes and developments, it will be easier for the parents to know what they are currently learning and what should be developed.
10. Gratitude to the Parents
Gratitude can be said out loud, in a parent-teacher meeting or attached to the news board. It's important to understand how to involve all of the parents. Who should organize events, who gathers resources etc. By noticing and highlighting the parents investment, they will want to participate again. And , by the way, word of gratitude for the teacher can also be attached to a news board by the parents.