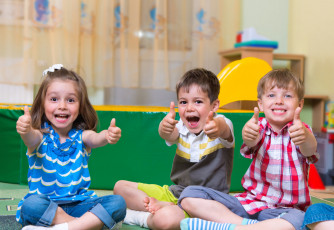 About Digital teaching materials
Norweigan kindergarten expert: Digital tools have a place in kindergartens as well
The question about the role of digital tools in the lives of children has become more and more relevant. The question of modern technologies having a place in kindergartens as well, is answered by a Norweigan preschool expert Yvonne Lindstad.

What, in your opinion, is the purpose, with which digital tools should be incorporated in kindergartens?
The kindergarten's digital practice should contribute to children's play, creativity and learning. When using digital tools, staff should be active with the children. At the same time, digital tools should be used with care and not dominate as a working method. The kindergarten will teach the children digital judgment and help children develop a beginning ethical understanding related to digital media.
Are you not afraid that using that much technology will negatively influence children?
I think it is important that we emphasize that digital tools should not take over children's activities but be a complementary alternative. We want together with the children to explore the creative possibilities the digital tools can give us. Our goal is to facilitate children to explore, play, learn and even create something through digital forms of expression.
What have been some of the challenges of this experience?
We know that some parents will be skeptical and think that children only will be playing. Here it is important that we emphasize that this is an alternative way of learning and that digital tools are combined with for example physical activity
Another challenge is to make sure that employees are confident in using digital tools in a sensible way and see it as a fun way to have playful learning with the children.
Digital tools are here to stay and we can use this to our advantage in kindergartens. We want to help the children to understand the use of this and that they also use them with common sense.

Please, share some ways, how you have already incorporated digital solutions in your day to day life in kindergartens!
You can let one child each day take photos of what they want from the day in kindergarten. Today's photographer is an exciting activity where the children get to take pictures of what they themselves are curious about.
This activity gives children the experience of using digital tools to communicate and express themselves in new ways. The children gain experience in collaborating in learning processes through the production and processing of images. By allowing the children to present their view of the outside world, good opportunities for children's participation are created.
The activity can also provide a good starting point for conversations around privacy. Who owns the photos? Is it okay to say no if someone wants to take a picture of me? Should I ask before taking a picture of someone? Then the digital judgment of children is also supported.
Photo: Photographer of the day

The children can make films and join the whole process. From making the story, film and present it for other children and parents.
Photo: Role play (pictures from Sweden)

Digital tools can be used to make children's role play more interesting. As shown in the picture; the 2 years old are playing trains and a film showing a train ride is giving the children's play a new dimension.
With apps children can easily make music and dance.
Photo: Making music (picture from Sweden)