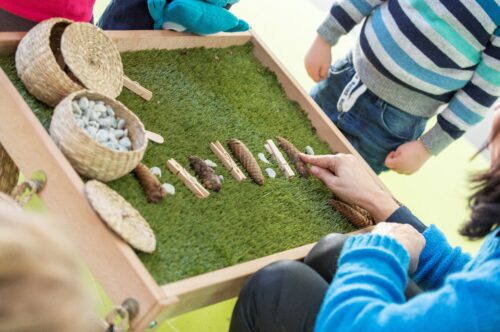 About Digital teaching materials
Digital learning tools will promote children's understanding of reducing food waste.
Testing of new digital learning tools in preschool practice has been started in Latvia. Teaching aids developed by the private preschool "CreaKids" in cooperation with experts from Lithuania and Norway will be available to every preschool, and several kindergartens have started testing them in practice. The developed sets of tasks can be divided into several groups: cultural and artistic learning area, social and civic learning area, changing habits, learning mathematics, health and physical activity, etc. As part of changing habits, preschoolers will be able to learn in an engaging and interesting way how to sort waste, how to reduce the amount of food waste and many other valuable things.
Worksheets, task sets, various video materials and other resources are available at www.happykids.lv. It is planned that the collected resources will help educators save time while promoting meaningful use of technology. "It is often believed that the digitization of education means a tablet for every child, but by using technology wisely, we can actually promote children's ability to work in a team, cooperate, improve knowledge on various current topics, such as care for nature, sustainability and other issues," says Daina Kājiņa, the head of the educational materials digitization project and private preschool "CreaKids".

The experts involved in the development of teaching materials indicate the importance of the development of various skills specifically for preschool. Learning how to treat the planet's resources with care, sorting waste, reducing the amount of waste on a daily basis, ventilating rooms, etc. things, it is children who can become inspirers and initiators of new habits in their families as well. As part of the learning materials for changing habits, various engaging means have been developed to help children learn such important issues as electrical safety, the life cycle of food products, professions, open and inclusive communication, etc.

In addition to learning materials, the platform also includes a tool developed by Norwegian preschool education experts for evaluating children's performance and knowledge. If until now, when thinking about the knowledge and skills of kindergarten students, we often talk about what skills the child still lacks, then the developed system will help educators create a road map for each child in order to improve the necessary skills and knowledge in joint cooperation with parents.

The project, implemented with the financial support of "Erasmus+", also develops methodologies for evaluating the dynamics of children's emotional and physical development. In addition, digital literacy manuals will be developed for the needs of teachers, thereby promoting both- support for the educator for the integration of digital tools in the learning material, and improving and training educators in the use of digital tools.