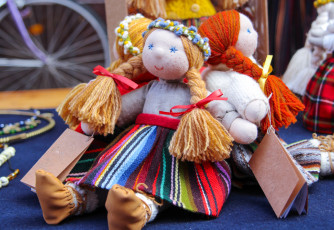 Kultūra
Apģērbs – viens no veidiem, kā iepazīt kultūru dažādību
Viens no veidiem, kā bērniem parādīt kultūru dažādību, ir iepazīstināt ar valstu nacionālajiem apģērbiem – tautastērpiem. Visbiežāk tas nav ikdienas apģērbs, tomēr sniedz ļoti vērtīgu informāciju par kultūru, tās vēsturi un raksturīgākajām iezīmēm.
Viens no variantiem ir aprunāties un izstāstīt bērniem, kādos gadījumos tautastērpus velk, kādi ir to elementi. Vislabāk, ja ir iespēja apskatīt tērpu klātienē, bet var izmantot arī dažādus citus radošus risinājumus. Dažas idejas ierosmei:
Ja kāds no bērniem dzied vai dejo deju kolektīvā, viņš var paņemt līdzi savu tērpu, lai pārējiem grupiņas biedriem to parādītu. Te būtu svarīgi ne tikai ļaut apskatīt, bet arī aptaustīt svārku, blūzes vai varbūt ņiebura materiālu. Varbūt kāds var padalīties zināšanās pastalu siešanā, mēģināt saskaitīt pērlītes vainagā, vai arī nosaukt visas tērpā pamanītās krāsas.
Vēl viens veids ir sagatavot papīra siluetus, kurus bērni paši izkrāso atbilstošajās krāsās. Paraugam var izmantot dažādus izprintētus attēlus.
Tāpat var izveidot spēli: papīra lelli un dažādus papīra tērpus, kurus bērni var nomainīt, atkarībā no tā, kurp lellei vakarā paredzēts doties, vai arī kādu kultūru iepazīt.
Tērpu iepazīšanai lieliski noder arī dažādu grāmatu vai žurnālu attēli, kurus var kopā ar bērniem izpētīt, vēršot uzmanību arī uz detaļām.
Tāpat var izmantot videomateriālus no lieliem svētkiem vai gājieniem.