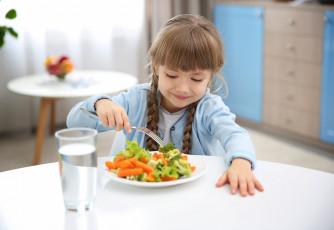 Nutrition
How to encourage children to expand their diet?
It is very often that you can hear parents sign over the fact that their little ones only eat a few select products. A "CreaKids" teacher Kristīne Zvaigzne, however, is here to tell us, how to make sure that children are ready to try new products and include them in their daily meals.
Kristīne says: "I have worked at "Creakids" for 8 years now and being a teacher there has been a job I am very passionate about. Over these years with my colleagues we have found out about different tips and tricks regarding food and have introduced them to our little ones – by sticking to them they have become habits and children because of these habits are ready to try and eat new foods."

If it is possible, the child should have the chance to serve food themselves
Kristīne says: "Our children from the ages 2,5 or 3 put their food on their plates themselves. In the middle of the table, there is the food and everyone has the chance to put as much or as little on their plate as they wish. If they have finished their meal, they can also have a second helping, if they wish. That way everyone can put only as much as they want on their plate. We have discussed how it is better to put on little food at first and if they wish then they can have more servings, as well as they, have to eat everything they have put on their plate."

At first, you have to taste the food before you decide whether you like it
The teacher highlights – always, before a child says that they don't like something, the teachers encourage the child to at least try the food, just a little bit of it. She says that usually, that experience takes the children by surprise and they themselves find out that the food is actually very tasty and even ask for more. "We always discuss with children that you can really only tell if you like something by tasting it, however, of course, there can be products, that you genuinely don't like," Kristīne explains.

What you don't like you can leave on the plate
Kristīne shares her experience by explaining: "If there is a product within a meal that the child does not like, he or she can definitely just leave it on the plate. However, for different bits of meals, for example, salads, our cook usually gives children all the products within it separately, so that they can create their own little salad with the products they like."
Decorate the food!
Kristīne has observed that children like eating food that has been decorated. "a lot of the time we try to decorate the food with greens that we have grown ourselves. Porridge, for example, we sometimes make into a smiley face with the help of jam."
Create special soup, salad and porridge months
So that children get used to different foods, kindergarten "Creakids" creates special food months. "Within the month children receive some kind of recognition about every little porridge, soup, or salad serving they eat. At the end of the months the children who have eaten the most, have "the strong one" or the "excellent eater" medals. After this month children have created a habit to eat even just a little bit of everything in every meal."

Educate the child!
So that the little one understands that eating isn't just a whim of a teacher or a parent. they have to learn about healthy eating. "We talk a lot about healthy eating and lifestyle with children – to grow big, healthy and strong we need to eat different foods that have vitamins and nutrients. We definitely praise children for having tried eating something new," Kristīne shares her experience.

Cook with children
Kristīne has also observed, that the food a child cooks themselves, is the most tasty, even if that particular meal has not been a favorite of the child before.

Teach children to eat like the adults
The teacher believes, that learning how to eat with a knife and fork makes eating a lot more interesting.

Create the "royal lunch"
Kristīne shares: "We regularly have lunch at a festive table – when we celebrate any celebrations, a special occasion or just for the sake of it. We decorate a long, beautiful table, wear fancy clothes and eat while in the background classical music plays."
The teacher has observed that by practicing these tips and tricks, children make their diets more varied and there are more products that they like. This fall, Kristīne will see how the children from her group go to school and she is convinced that every one of the 19 children eat diverse food and never forget to try everything the cook has cooked for them.

Photo: Shutterstock.com