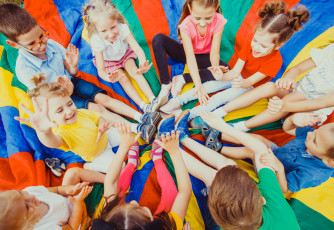 Dialogue
Teachers and specialists from pre-schools will discover new ideas and exchange experience in the conference
To talk over their successes and challanges, as well as discover new, creative and innovative ideas in regards to working in a pre-school, at the ending of NordPlus Junior 2017 project "Responsible lifestyle" on 21st of March, 2019, in the VEF culture palace teachers and specialists will meet for a conference.

During a two year period, three countries – Latvia, Norway and Iceland – paid a special attention to responsible lifestyle, involving teachers, children and parents. During the project, 5 different subjects were highlighted – healthy eating, active lifestyle, nature and environment, positive dialogue and cultural differences.
Now specialists and teachers from all three countries and their pre-schools – "CreaKids" from Latvia, "Laeringsverkstedet" from Norway and "Reykjakot" from Iceland – are invited to take part in a conference, to exchange experiences, discover new and creative ideas, as well as find inspiration for any future work.
The international conference will take place in two parts – in the first part there will be speeches from respresentators of the countries as well as teachers from the pre-schools, but the second part will consist of three different workshops, which will be organised by all thre pre-schools involved in the project.