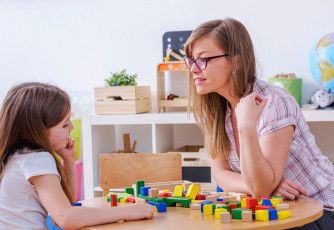 Dialogue
Work in kindergarten comes with great added value
Choosing a career path is a crucial moment in any persons' life. Some people find their path immediately, but for some it takes a while. Alda Rusina, a kindergarten teacher, told us her story of how her path led her from a work in an office to a kindergarten.
Alda has been working in a kindergarten for three years now – at first as a teacher's assistant, but now, after receiving the proper education, she has become a teacher.
Job with fulfillment
Many young professionals believe that a job in an office is interesting and glamorous. Alda as well before coming to a kindergarten has been an assistant and project manager in bigger and smaller corporations. "However after reaching the age of 30 I started thinking more and more about the fulfilment and purpose a job can bring," says Alda. "A huge influence came from D. Greber's article "About useless-job phenomena". In that he talked about superficial jobs, that don't care about the development of people and emotional wellbeing. Those are jobs that don't bring any added value to the people working in them or the outside world. When a person understands that it is time to change something in their lives, life is ready to give these kinds of signals as a sign that what you feel is legitimate."
Work with children?
Alda says that at that point relevant were also her studies at Transpersonal Education Institution, where she studied psychology. "Even though from the age of 14 I babysat children and I liked working with them, I never thought of it as a possible career choice. The knowledge I gained in the institute was a strong impulse that lead me to the right choice. When asked if working with children is challenging, she said that at the end of the day what she feels is fulfillment. She explains that in this job not only does she have to invest emotionally, but she feels feedback from children, that is always instant and true. "I absolutely love the honesty with which children look at the world. I like the creativity that is asked from me by the work I have to do in kindergarten. And I like the feeling of satisfaction I get from the work I do." Alda says that it is exciting to not know what the day holds: "Work with children asks for flexible thinking. You can have your plan A for the day and also have a plan B, but the day can take its own turn, and turns out that neither plan A or plan B works out. And because of that you have to be able to adapt."
Recovering energy
When talking about work in kindergarten, Alda agrees, that she has to be emotionally present every single moment of the day. However, that doesn't mean that her energy gets lower. "After psychology classes I know what to do, to get my energy back again. If I feel as though my strength is disappearing, I try to be honest with myself and understand, what am I doing wrong. I try to understand what I am distancing myself from or what am I letting too close to me. I think that every person in every profession has to be able to analyze themselves and reflect back on their actions," says Alda.
The question of pay
The preschool teacher doesn't hide that people around her are interested in the question of salary – kindergarten employees don't earn close to the highest salaries in Latvia. "If a job does not give fulfillment and waking up every morning is torture, then from the big salary a lot of money goes to trying to fill the emotional hole. At that point all I cared about was covering living costs and minimal necessities. And it is not that bad anymore either – the number on the kindergarten teacher's salary paper has grown over the years. When you take everything into account and look at the bigger picture, at the end of the day I gain a lot more."
Challenges of a preschool teacher
As the main challenge of this profession Alda mentions being an authority in a positive way. "Nowadays children are so free and honest, that a backbone is necessary, so that a teacher can lead a day with inner peace. The other challenge is being open and accepting. Nowadays it is relevant for teachers to gain confidence that they can overcome anything that comes their way. It is important to understand, that now children are different to how we were." Teacher also highlights the necessity to teach children to listen. "Not necessarily to me, but to each other as well. And with respect," says Alda.
More attention for every child
"I wish that in the daily routine we would have more time. More time to observe, talk to every child individually. We have on average 18 kids in one class, which is less than there are in public kindergartens, but there are still days where in the evening you realise that you didn't get to say or talk about certain things. Someone at some points requires more attention, but I would never want that because of it someone else gets used to the idea that "I can do everything myself"… That, in some ways, is good, until a moment, when a child stops sharing what is happening, when things get hard. And then they go to school, where there are even more children in every class and the teacher can give less and less attention to every child. That is why I wish the issue of teacher's assistants at least in primary schools or less kids in every class would be raised more."
Photo: Shutterstoch.com