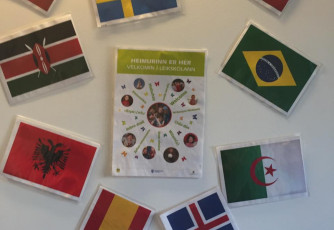 Culture
Let in and learn about the different – a skill, that can be taught already in the kindergarten
In today's era of globalization, it is impossible to avoid different cultures, so it is important to learn about and accept the different from an early age. From all of the three countries involved in the Nordplus project "Responsible Lifestyle" – Latvia, Norway and Iceland – the biggest experience with this topic belongs to the pre-schools in Norway, that organise culture days or weeks, to learn about the different cultures of teachers and children. Norway's kindergartens have little flags outside of their buildings, to represent the countries their teachers and children have come from. A special attention is paid to the food, so children can eat the food, that is appropriate for their culture.
Latvia is the least experienced in this field, so with great interest they observe these practises in Iceland and Norway.
During this year, there will be workshops on cooking food from different cultures, as well as, when travelling, teachers will teach games from their culture, to the kids in this other country's kindergartens.