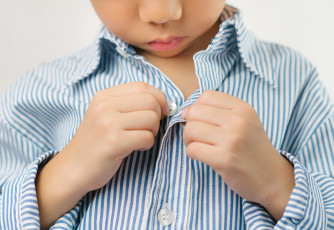 Culture
Practical tips on how to dress a child when going to the kindergarten
The specific guidelines on what to wear can be different from kindergarten to a kindergarten however the base principle stays the same – the child should always feel comfortable – the clothes should not bee too tight, too itchy, or too thick. The clothes should let the child move around freely and they should be easy to get on – if there is a drawing of the favorite cartoon character of the child, he or she might even feel a bit of extra joy while wearing them.
Can the child get the clothes on by themselves?
Children learn a lot of new things every day in kindergarten – one of the most important skills is independence. That in itself includes the skill of getting dressed by themselves. That is why it should be important that the clothes the child wears can be easily gotten on. Another thing to pay attention to is the fact that children change their clothes frequently when in kindergarten – when they have sports activities when they go for a nap when they go outside. That is why it is important that the child can learn the skill of getting dressed easily and without stress – if something is too difficult or requires extra effort, children are more likely to not want to try and ask for help from the adults. That again just means that it is important that the clothes the child is in, allow to move freely and dress easily. It is also very important to acknowledge when the child has gotten dressed by themselves and praise them for that.
Clothes that can create problems for the little ones
– clothes with buttons
– clothes with a zipper on the back
– tight clothes that are hard to get on
– shoes with laces, especially boots
– stiff clothes from the jean material
– shirts and jumpers that have a tight neck hole and can be hard to get on
– rompers and extravagant dresses that can make it difficult for the child to go to the toilet
– for small children mittens that have a hole for every finger
Can a child go to kindergarten in a princess dress?
At a certain age, girls might want to wear their favorite princess dress or their most beautiful shoes to the kindergarten, while boys might want to show off their favorite pirate costume. They do so not only because that might be their favorite piece of clothing, but they also want to show it to their friends. K. Zvaigzne highlights, that parents shouldn't say no to this and it is completely fine to do so, however, children should have another set of clothes with them so that they can change, when their chosen clothes start being uncomfortable.
Being prepared for all situations
At a younger age, children are more likely to get their clothes dirty or wet during various activities, so it would be great if they would have something to change into in their locker. Both children and parents should be aware of what is in the locker so that if needed they can either bring more clothes or change them depending on the season. Parents definitely shouldn't get worried that there might be too many clothes in the locker – as K. Zvaigzne highlights, it is a lot better to have something to change into that is appropriate for the situation, weather, and any situation that might arise during the day. The only thing to keep an eye on is the fact that is the clothes stay in the locker for too long, they might not fit after awhile.
What a child should have in the locker:
– everyday change of clothes for the indoors – something comfortable ;
– a sweater or a jacket for the colder weather;
– extra socks and underwear;
– extra mittens;
– a hat for the sunnier seasons;
– clothes for the rain;
– rain boots;
– napkins;
– a comb.
Clothes for sport and sleeping
Every kindergarten might have different guidelines on the clothes needed for sleeping and sports activities – that can depend on how hot or cold it is, from what the floors are made of, etc. However, usually, for sports activities, children need a light T-shirt and shorts, but for sleep – a pajama. There are, however, kindergartens, in which it might be so warm indoors, that children sleep in very light clothes. For dance lessons, children usually need special slippers.
What to wear when going outside
The clothes that the child wears when going outside should also be comfortable and something they can get on easily. Comfortable, dry, seasonally appropriate, tidy clothes will make the child feel comfortable and safe. "Teachers during the say follow and always remind and teach children that they have to follow along whether their clothes are not wet or whether they feel hot or cold. In those situations, we invite children to go to their lockers and change. When they get older it is important to remind and teach them that it is important to check how they feel in their clothes, whether it's too hot or too cold, have their socks gotten wet or when they need help from the teachers," says K. Zvaigzne. During winter months, it is important to remind the children to go to the bathroom before they start dressing up for going outside, otherwise, they will have to get their winter clothes off, go to the toilet, and then start dressing up all over again.
Cold in the morning and hot in the afternoon
Many parents in Latvia know the situation every autumn when it is very cold in the morning but gets a lot warmer in the afternoon. On those days it is usually the case that the child wears the same thing going outside in the afternoon, that he or she wore in the morning, and it gets very hot. The kindergarten teacher comments on how to deal with those situations: "For the older kids, it is important that parents tell them how to dress when going outside in the afternoon. It will also make them feel more grown-up and responsible. It is is also important to remember that every child is different – some are used to walk around in T-shirts even when it gets colder, however, others feel cold quicker and need a jacket. Teachers, of course, follow the change of weather, help children choose what to wear, and take into account the wishes of parents.:
She also shares her experience on how to help out teachers and make parents less worried in these situations: "We at Creakids have created a system of parents being able to leave notes in the lockers of the children. Next to the lockers parents can write instructions on what the child should wear when going outside on that particular day and what should be taken into account. Parents write this note, stick it in the designated space, and that way both teachers and the children who already know how to read can read the note and know what parents wish they do."
Too light or too thick?
K. Zvaigzne has noticed, that parents like the "cabbage" technique, where they give their children a lot of layers to wear that they can take off during the day if it gets too hot. This method works well with the Latvian weather and that way both children and teachers can make sure that the children don't feel too hot or too cold.