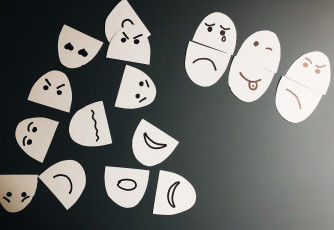 Dialogs
Emociju kartītes: spēle emociju izprašanai
Emociju kartītes: spēle emociju izprašanai
Lai veicinātu bērnā dažādu emociju izprašanu, tam var noderēt arī kāda pašu izveidota spēle. Šāda veida spēles ir iekļautas arī Montessori pedagoģijā, jo tās veicina un attīsta bērna radošo potenciālu.
Emocijzīmju spēle:
Lai izveidotu šo spēli, būs nepieciešams kartons vai biezāks papīrs, šķēres, flomāsteri vai marķieri. No papīra izgriež vairākus apļus ovālu formā. Uz katra zīmē dažādas emocijas, piemēram, ovāla augšpusē zīmē acis un priecīgus uzacu lokus. Ovāla lejasdaļā zīmē smaidīgu muti. Nākamo ovālu zīmē bēdīgu, citu satrauktu un pārsteigtu.
Emocijzīmes jāzīmē tā, lai tās vidū var pārgriezt.
Bērna uzdevums ir savienot atbilstošās emocijzīmju pusītes. Ja kādu emocijzīmi nesanāk savienot, tad audzinātājs drīkst piedalīties, iztaujājot bērnu, kādu emociju viņš vēlas izveidot, kā arī aprunāties, kādas pazīmes raksturo atbilstošās emocijas. Ja spēlei ir izveidoti vairāki komplekti, tad to var spēlēt vairāki bērni kopā, klausoties, kādu emociju nosauc skolotāja, pēc tam cenšoties to salikt. Tāpat bērni var atdarināt emocijas, kas redzamas kartītē.
Vienmēr jāatceras, ka rotaļa jābeidz ar priecīgām emocijām. Piemēram, visi kopā var sajusties laimīgi un sirsnīgi smaidīt.