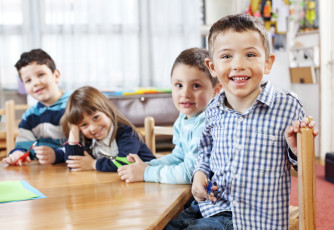 Dialogue
An international conference of exchange of experience for kindergarten teachers
An international conference of exchange of experience for kindergarten teachers will take place in Riga on the 21st of March in VEF Culture Castle. It's main goal is to talk about success stories and the biggest challenges, in order to discover new, creative and innovative ideas for future work in preschools.
The name of the conference is "Responsible lifestyle" and experts and specialists will attend it from Latvia, Norway and Iceland.
Responsible lifestyle is a topic that was paid close attention to by kindergartens in three countries – Latvia, Norway and Iceland. Teachers, parents and children were involved in the project, and it consisted of five main topics – healthy eating, active lifestyle, that's filled with movement, nature and environment, positive dialogue, as well as cultural differences. Now specialists from all three countries will take part in the project, to exchange experiences, and search for new and creative ideas, how to work with children.
The preschools, that took part in the project were "Creakids" (Latvia), "Læringsverkstedet" (Norway) and "Reykjakot" (Iceland). Taking part in the conference will be:
Anita Muižniece, parlimenatry secretary of the Ministry of Education and Science in Latvia;
Kristian Ødegaard, Ambassador of Norway;
Hans Jacobs Sundby, Norway's kindergarten's "Læringsverkstedet" (and "Creakids" as well) founder;
Inga Akmentiņa-Smildziņa, Latvia's parent's organization's "Mammamuntetiem.lv" leader;
Elizabeth Bjørke (Norway) teacher;
Lill Margrete Østberg Søreide; (Norway), preschool's manager;
Thorunn Osk Thorarinsdottir (Iceland), preschool's manager;
Yvonne Lindstad (Norway), preschool's expert.
The conference will be divided in two parts – in the first part, there will be remarks from the representatives of each country, but the second part will consist of creative workshops, that will be organized by every kindergarten, that has taken part in the project.
A day before the conference, on the 20th of March, teachers from Iceland will be visiting a kindergarten in Ropaži – "Annele", teachers from Norway will visit a kindergarten in Riga – "Ābecītis", and 15 leaders from Norway's kindergartens will visit "Creakids". During the visits, teachers will teach each other games, that not only are fun, but also incredibly educational.
In the preparation of the conference, as well as in the process of encouraging the excahange of ideas between kindergartens, a website has been created – "HappyKids.lv". There everyone, who has the interest, can find inspiration for work in kindergartens, as well as every preschool teacher is invited to share their ideas about responsible lifestyle, sending them to [email protected].
The conference is created as a part of a NordPlus project "Responsible lifestyle". Teachers from Iceland, Norway and Latvia have participated, and from the year 2017 there have been 15 exchange trips, that have been done by 60 teachers.
In the conference there will be 40 teachers and preschool managers from Norway, 10 preschool teachers from Iceland and 130 preschool teachers and managers from Latvia.