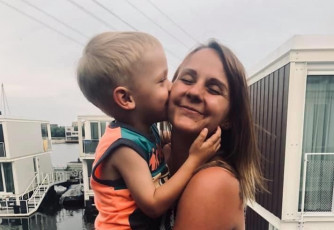 Dialogue
Teacher Kristīne: There is no other job in which you'll get hugged 40 times a day!
She definitely could be named the teacher of dreams – she talks about children with immense love, about parents – with a deep understanding and above all that there is a sense of profound calm and confidence, that it's the work with children that truly is the most important work out there. "Everything we do, we do for the children," says Kristīne Zvaigzne, a kindergarten teacher at "CreaKids".
Interestingly enough, Kristīne herself has never attended kindergarten, "When my mom started bringing to the kindergarten, suddenly I caught every possible illness and had every trauma imaginable. Until now I don't understand why I didn't like kindergarten as much as I did, because I was a very talkative child and went to extracurricular activities, such as dancing, from the moment I turned 2." Now, however, she has been working at a kindergarten for 8 years – one day, when she was 25, she just decided, that it was the work with children that she really wanted to do.
What was the journey that got you to the career you are pursuing now?
Before I started working at a kindergarten, I had had many different jobs and I even had a bachelor's degree in culture management. I had worked as a waitress, in a store, I had organized summer camps and for a year I had worked abroad. I really loved working with people. When I was younger, I also loved working as a nanny, which started with looking after my younger brother and sister. At first, it was a bit of a duty I just had to fulfill, but as time went, I started looking after my cousin's children and then started doing it as an actual job.
As I had already had a lot of different experiences, I wanted to find a job that I actually liked – something that would make me happy to get out of the bed. It was really important that I felt the value of the job and felt fulfilled. And then one day it all just clicked – it was the 1st of September, I was working as a waitress, and just saw everyone come in with flowers and such a celebratory feeling. The feeling was so moving. And that is when I understood that I wanted to work at a kindergarten.
That easy?
Yes. That same day I went home and found kindergartens on the internet in which I would want to work. I sent around 10 emails with my CV and motivation letter, within which I wrote that I knew I didn't have the necessary education, however, I really wanted to work with children. I had lead summer camps and looked after children, therefore, I knew that I wanted to work at a kindergarten.
What kind of responses did you get?
I sent emails to kindergartens, which were not even looking for employees. From the 10 emails I sent, I received around 6 responses. I went to 3 job interviews. My goal wasn't to immediately work as a teacher, however, many kindergartens offered the position of a teacher with the idea that I would immediately go back to university and get the degree while already working.
When I went to Creakids, I met Daina, the head manager, and I already felt that it was the place where I would like to try and work. I was already offered the position of teacher's assistant and after a week I started work.
However now you're a teacher, right?
Yes. When I came to work here, I already understood that the salary here would be lower than the one I received as a waitress. That is why for a year I still worked as a waitress in my free time, however, after that year, I realized that CreaKids was the place where I really wanted to be – the colleagues, the management and the environment here was exactly like those that I was looking for. That is when I left my work as a waitress and enrolled in university to get my teacher's degree. Now I have the diploma and I am thinking of going back to study – now there are opportunities to study special pedagogy, musical therapy. There are so many possibilities.
Sounds like you have purposefully and successfully pursued the career you wanted. However, often you hear that kindergarten teachers are very underrated and tired. Do you feel that way sometimes as well?
In my opinion, the underlying principle here couldn't be simpler – if you look for the things you want and do what you need to do, everything is possible. For example, I have a hobby – folk dancing. With time I also became a folk dance teacher at the kindergarten. I can't say how it is in different kindergartens – I have worked at Creakids for 8 years and my child also goes here. What I like here is the different approach in the curriculum, the different program that has come here from the kindergartens in Norway. If now the new Skola2030 program with interdisciplinary competences is starting to be used in Latvia, we have been doing that for this whole time. Even 8 years ago when I was looking for a place to work, the references that came from CreaKids said that everything happened differently here.
I think that the feeling a person feels depends on the person themselves and this is a work you can do only if you really feel the calling. For those who want to work just for the money – there are other jobs for that. Working with children asks for a lot of self-sacrifices and we do it for the children. If you don't feel the value of that, there is no use for doing the work.
What is the most difficult part of doing the job?
(Thinks for a while) I don't even know…!
Maybe it's the noise that comes from 5 children asking something at the same time or the work you have to do with the parents?
Most definitely this job is work with the children as much as it is with the parents – everything is based in cooperation with parents. We have a closed Facebook group, where parents can follow the day to day activities of their children and during the first week of adaptation, parents can come to the kindergarten and spend these days together with the child. The most important thing is that both parents and children feel good. It is completely true that if a parent is not ready to let the child go to kindergarten, the child won't feel comfortable or good.
Sometimes teachers spend more time with the children than the parents do. What would be the thing that you see from your side and would like to tell parents?
The job is incredibly versatile and diverse, so I have understood that a teacher has to be able to do everything. Everything is included in the day to day activities and we almost become the third parent to the child. That is why I would like to highlight how important cooperation between teachers and parents is. It is the basis for children to feel good. If the parents have worries or doubts about anything, even if it is as small as wanting their child to wear the right shoes, they should come and talk to the teachers – even if it's a call or a message. Everything can be done and agreed upon! There is no need to worry or get angry on your own.
How can you remember everything about every child? One child cannot eat chocolate, others will be picked up at 3 pm that day and another needs to wear the blue shoes. Is remembering all of that even possible?
There really is a lot of information, that is why cooperation between the teachers and teacher assistants is crucial as well. Sometimes it happens that the parent communicates a piece of information to one teacher, but the other doesn't know it. There are three of us in one group and that is why it is so good that in the morning all three of us are there – that way we don't miss any important information. We also have a notebook and table where we can make notes or we write it in the WhatsApp group we have for us three. There are also notes next to the lockers of the children where parents can write down any preferences they have for what the child wears. That both helps the teachers and lets parents not to worry about their child not being in the right clothes.
How do you relax and not burn out?
It's true that after a week of work I feel tired, but if you love what you do, which is the case for me, the fulfillment you feel is indescribable. In no other job, you will get 40 hugs per day and hear so many I-love-you's. Now, when I am expecting a baby, I feel that my little one is so hugged and loved. Coming to kindergarten I feel as though I come to my second family – we get attached to the children the same way they get attached to us. I don't think that there is any other job where you hear so many nice things all the time. The same fulfillment and gratification come from seeing how quickly children learn and pick up everything you teach them. The development of every child comes with understanding that you thought them that – from all the little things until skills such as reading or writing. There is a lot of love and honestly within the children and that is the added value of the job. Whatever anyone may say – this really is the best job in the world.
Oh, and you know what actually is the hardest thing within this job? At this kindergarten, we have a group from the very beginning until the moment they go to school. Now I've gone through that journey with two groups and on the day of the graduation it's like losing 18 children at once – they leave and you stay. That is probably the hardest part. There is a feeling that a bit of your heart leaves. Everyone goes on with their own life but we remember them for a lot longer than they remember us. During the first year of school, they come back, but as time passes, they visit less and less. And then you also have to switch your mindset to your new group – from 7-year-olds to 2-year-olds.
What would you suggest to the young professionals that think about pursuing this profession?
If it really is a calling, I would suggest not being afraid and trying it. It is difficult to just decide whether you'd like this the moment you finish high school – you have to come and try. This isn't a job which you can like or not like just by looking at it from distance – it is so creative and dynamic. That is a job, within which you will never get bored.
How easy was it to study and work at the same time?
I think that's the ideal way how to do it – working and studying the profession at the same time. That way you can understand quicker if that's something you want to do. It is also a lot easier to study it when you work in the environment – it is easier to understand everything, you get involved more and do all the work related to the studies. I studied on Saturdays, which meant that I didn't have any problems regarding the schedule – I had had an active day to day life before as well with dancing, somewhere in the middle of it all I also gave birth to my first child. Everything really depends on how much you actually want to do it all and do you like what you do. I wish everyone was able to find such a job. After all, it came quite quickly to me as well – I was 25 when I started working in kindergarten.
What else excites you about the job?
Another great thing is the time of festivities – when you work with children, any kind of celebration brings double the joy. September, Christmas, Autumn solstice, Spring solstice – preparing for all these celebrations is special. All the songs, poems, decorations, and being together – that is the real feeling of celebration. My favorite time is the preparation for the celebration – the celebration passes in a couple of hours, but what you really get to enjoy is the time of preparation. Children learn a lot from us, but we learn from them just as much.