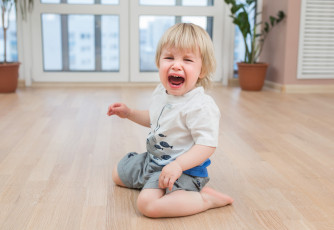 Dialogue
How to correctly say goodbye to your child every morning?
Saying goodbye every morning can be a hard moment, if the child chooses to cling to the parent and cry, instead of joining the group. How should the parents act, how should the teacher act – tells a physiotherapist and an osteopath Līga Latkovska, a teacher at the private preschool educational institution "CreaKids" named Egita Liepiņa and a doctor psychotherapist Artūrs Miksons.

If we as adults thought about our everyday life, we would find a lot of situations which are quite tough and which we would rather avoid. Apart from children, we have learned how to identify hardships and how to overcome them. Even though kindergarten can be a happy experience, saying goodbye in the morning can be emotionally hard. There is no one answer how long one child could be allowed to cry in the mornings. It's up to the specific situation, as well as the child's personality traits. Doctor psychotherapist Artūrs Miksons tells that it is important to observe the child in motion – in a normal case a few weeks after starting kindergarten the crying should stop or at least decrease. If crying in the morning stretches out to more than a month, you should look for the origin.
Creating a Feeling of Belonging
In the morning, when heading to the kindergarten, the child figuratively speaking has a sort of "wire" in hands. Having arrived to the group, they search where to "stick" their wire. In other words, children search where they belong and where they can feel safe. That is exactly why it's important that the teacher helps the child feel that way. There are simple ways to do it, for example, teacher can approach the child and say good morning. "It's absolutely amazing if the teacher can also remember what has happened the day before and what type of plans the children had.Teacher could ask how was it and was everything accomplished. This way a child feel wanted at the kindergarten and like they have where to stay," informs physiotherapist and an osteopath Līga Latkovska. It's hard for a child in that moment, when they walk inside and teacher is busy with her own things. That way children feel unwelcome and like they don't belong. There are teachers who know how to greet children very naturally, however, there are some with whom children feel confused with. Teacher Egita Liepiņa points out, that when starting a conversation with a nervous child, an educator should be eye-level with the child.
Sympathy and Empathy, Not Only Technical Care
"It would be amazing, if in our kindergartens we would have one adult working with four kids. But actually we have one teacher and a nanny for about 20-25 children. In this situation it is physically hard to make contact with every single pupil. Teachers are forced to , for example, change each child's clothes automatically one after the other. This impacts children's bodily consciousness – necessary, unnecessary, want it, don't want it. There are mothers, that have said that because of seeing this kind of everyday life ,they don't want to take their child to kindergarten. Yes, there might be sweet teachers, bet they are not enough. In result, children don't feel the necessary sweetness and belonging, that's why they cry in the mornings," tells Līga Latkovska.
On the other hand, Artūrs Miksons highlights the question: if the child's crying is long lasting, are the parents talking with their child enough about where and why they're going away, are the parents reacting to their child's needs enough and are they empathic and understanding? "Yes, you can also talk to a one and a half or two year old child in a way they understand, taking in consideration their feelings and problems," explains the doctor psychotherapist. Simultaneously, it is worth thinking about what to say – why does the child have to go to kindergarten? You shouldn't tell that mom and dad have to go to work and there is nowhere else to leave you. It is much more valuable to tell children what can be gained in kindergarten – amazing activities that await them, about the new things they will learn and about playing with friends. Līga Latkovska adds that recently medics have discussed the question about the fact that a lot of patients turn to their doctor with somatic problems but in reality they should turn to a psychotherapist. The origin of these situations can sometimes be found in early age. Kindergarten shouldn't be about the technical care of the child, while mum and dad are at work, but it should be the place they feel safe.
The Acceptance of Children's feelings
There shouldn't be a situation, where the parent leaves a crying child behind while the teacher distracts them. In cases like these kids can become extremely agitated because they don't understand how the parents disappeared. For a child that causes negative emotions and stress for the rest of the day.
Even in stressful mornings at kindergarten, it is important to acknowledge and to accept the child's needs. A child may say: "I want to go home and don't want to stay at the kindergarten." A parent could answer: " I hear you and I understand that you may want to go home, but still now you have to go to the kindergarten." You have to give the child acceptance that they can cry and be upset.
When the child's needs have been heard and accepted, you can give them a kiss and send them off to the hands of caring teachers. Teacher Egita Liepiņa stresses that parents shouldn't stretch out their goodbyes but to trust that the educators will know how to calm them down and how to distract them to the exciting and interesting daily activities. Psychotherapist Artūrs Miksons reminds that when saying goodbye parents should keep their promises to their child. If they have promised to help the child undress, kiss them and then go off to work, that need to happen. Parents should rely on impulses, stay too long or to step up to the child and take them home. When talking about children's emotions, it's important that the teachers don't belittle their feelings and needs by saying: "Stop crying! It's nothing big, they'll be back in the evening!" But instead accept the child's distress: " It's sad that mommy had to go away but she will be back in the evening." Egita Liepiņa tells that usually teachers feel which child needs longer cuddles and a longer while on their lap. By the way, sometimes an upset child might be better, if their told that their friend is waiting for them and their friend wants to hug them and to play together.
If a Non-cryer starts crying
There might be situations when a child ,who has adapted to the kindergarten environment and routine successfully and who doesn't have problems saying goodbye to their parents in the mornings, suddenly one morning doesn't want to let go of their mom or dad, starts crying and say that they don't want to stay. This is a situation in which the parent should find time to stay for a little while longer and have a talk with their child to find out what's wrong. Could be that the child is simply tired and in a bad mood and a moment in their parents lap could make them feel better. But it could also be that the child is feeling sick because of a sudden illness – a stuffy nose that is pressing on the head or a rising body temperature. Sometimes the child can be worried if there is an unusual activity or performance planned that day. If other reasons cannot be found, parents should have a talk with the teacher, perhaps something has happened the previous day because of why the child doesn't want to go. At blame could also be problems at home because of which the child feels unsafe and doesn't want to let go of mom's or dad's had.
An Idea! Waving through the window might help the child to say goodbye to their parents. When the child see their mom or dad in the forecourt, they can wave, send air kisses or make heart shapes with their hands to each other through the window. It will be a nice moment for which the child will have to let go of the parent ad head to the window.
Advice For the Educators! If the child is having troubles saying goodbye to their parents in mornings, you could make a deal with the child, that after it's been done you'll send a photo of them to their parents, where the child can be seen active and satisfied. This will make the child feel like they are closer to the parents and as for parents – this will make them feel more calm that their child is alright.
Take Into Consideration! A lot of kids simultaneously in the morning want affection and physical touch. That's why kindergarten could organise calmful activity just before the breakfast, where children sit tight around the teacher and listen to a story, a fairytale or just have a calmful conversation.
Advice to the Parents! Time in the morning should be planned so that the moment in the kindergarten wardrobe would be without rush, so that the child could calmly undress, find and change their shoes, show the parent drawings from the previous day and calmly say goodbye.